Check John Terry's message to Chelsea and Abramovich after winning CWC
Chelsea legend, John Terry has taken to the social media to congratulate the Blues and owner, Roman Abramovich after winning the FIFA club world cup in Abu Dhabi.
Terry was an academy graduate at Chelsea who went on to captain the senior team. Terry never played for any team in his career at England.
He also never changed his Jersey number, and remained twenty six in his entire career. Terry has captain Chelsea to various trophies and was in attendance when the blues faced palmeiras in club world cup final.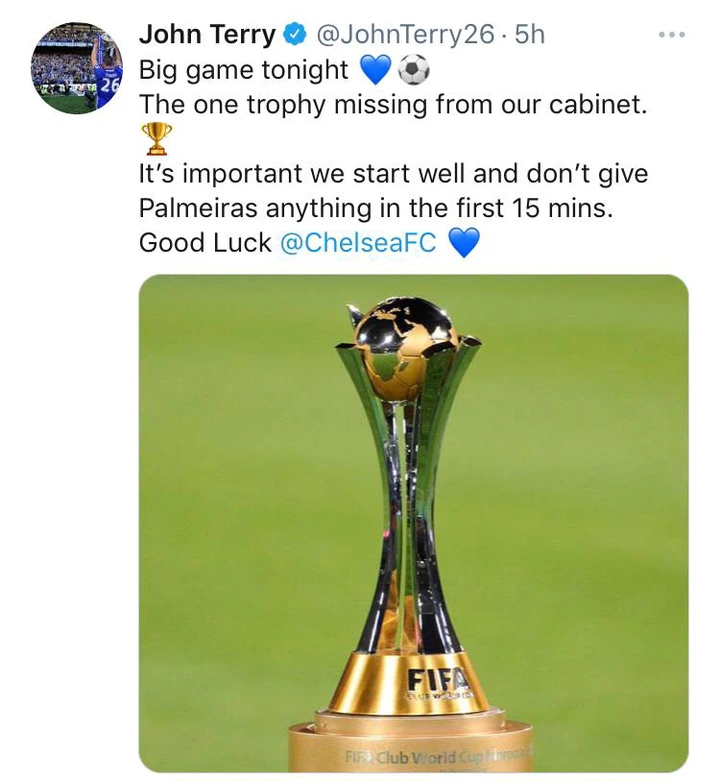 Terry took to social media to advice Chelsea's players on how to go on with the match. Terry was pleased after Chelsea emerged victorious and won the club world cup for the first time in their history. Terry took to social media to recognise Chelsea's owner, mr Roman Abramovich from been the best owner of a football club.
Roman has always had Chelsea's intrest and never hesitated to sigh to class players for Chelsea. Roman has also appointed various elite managers to coach Chelsea, and enjoyed alot of trophies in that time.
Chelsea completed all major trophies available after winning the club world cup, under Roman Abramovich ownership.